OLDTIMER RALLYE SACHSEN CLASSIC 2021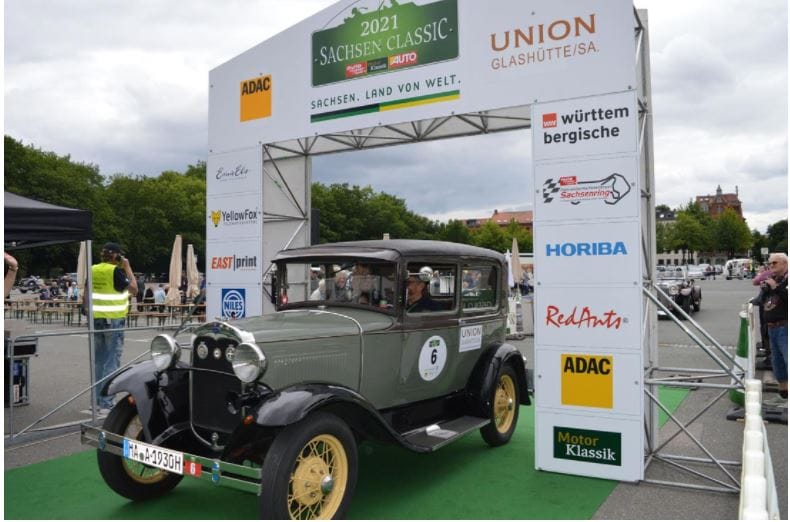 Now in its eleventh year, UNION Glashütte/Sa. is partnering with the Sachsen Classic and has developed a chronograph especially for the event that presents itself in a vintage flair: The Belisar Chronograph is limited to 350 pieces and is much sought-after by the participants.
The rally, which took place for the 18th time, led to the Sachsenring, then from Zwickau through the picturesque Erzgebirge mountains to Dresden and from there once again to the Skoda factory in the Czech Republic. The route passed picturesque villages and market places, through beautiful landscapes ranging from rugged to gentle and through unique avenues.
A total of about 160 old and youngtimers from the years of construction 1926 to 2000 took part in the tour, which is why the Sachsen Classic is often called the longest automobile museum in the world. The oldest car in the field this year was an American Buick Standard Six built in 1926, and Team UNION with starting number 6 also drove a Ford built in 1930. The cars covered a total of around 580 kilometres over three days.
In addition to the daily distances, it was of course also necessary to drive the sometimes tricky time and distance classifications with pinpoint accuracy. Of course, the Belisar chronograph helped with this. Team UNION rode so precisely in one or the other classification that a place on the winner's podium was guaranteed.
All in all, it was a beautiful and successful event, and all participants are already looking forward to its continuation next year.