Our Movements
Only mechanical movements are used at Union Glashütte, where watches are painstakingly finished, assembled and calibrated by hand by our watchmakers in Glashütte, Saxony, in a process comprising numerous complicated steps.
The exquisite decoration of the movement can be admired through the sapphire crystal case back of our timepieces
The powerful automatic movements with a power reserve of up to 60 hours and high rate stability feature a rotor with skeletonised brand lettering and a refined Glashütte stripe finish.The hand-wound movement designed by Union Glashütte possesses many of the features traditional to Glashütte watchmaking, such as the characteristic three-quarter plate, which also bears fine gold engraving along with the typical stripe finish. As a nod to Union Glashütte's origins, the movement features a stylised temple – a symbol that was first used as a trademark by the company's founder Johannes Dürrstein to certify the originality of his Union watches.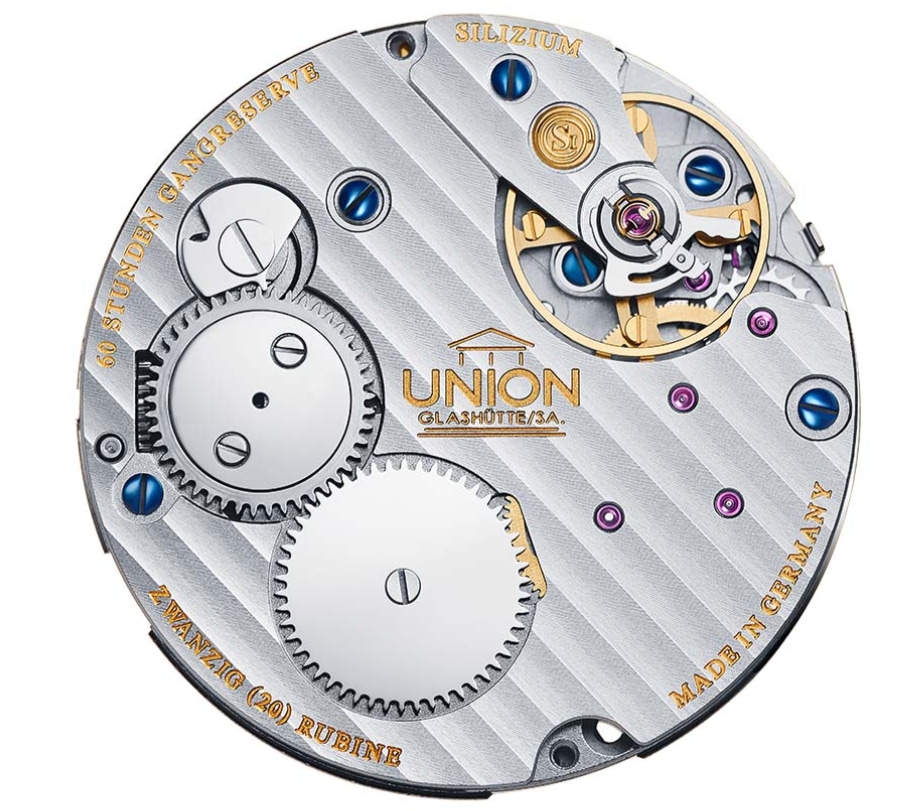 UNG-56.S1
Movement dimensions: 13 ¼ ''', dia. ø 30.00 mm, height 5.20 mm Functions: Hours, minutes, small second, power reserve display Date display in dial window (date correction via crown) Manual winding, indexless regulation system, Second stop device Stones: 20 jewels Power reserve: 60 hours Frequency: 28,800 vibrations per hour (4 Hz)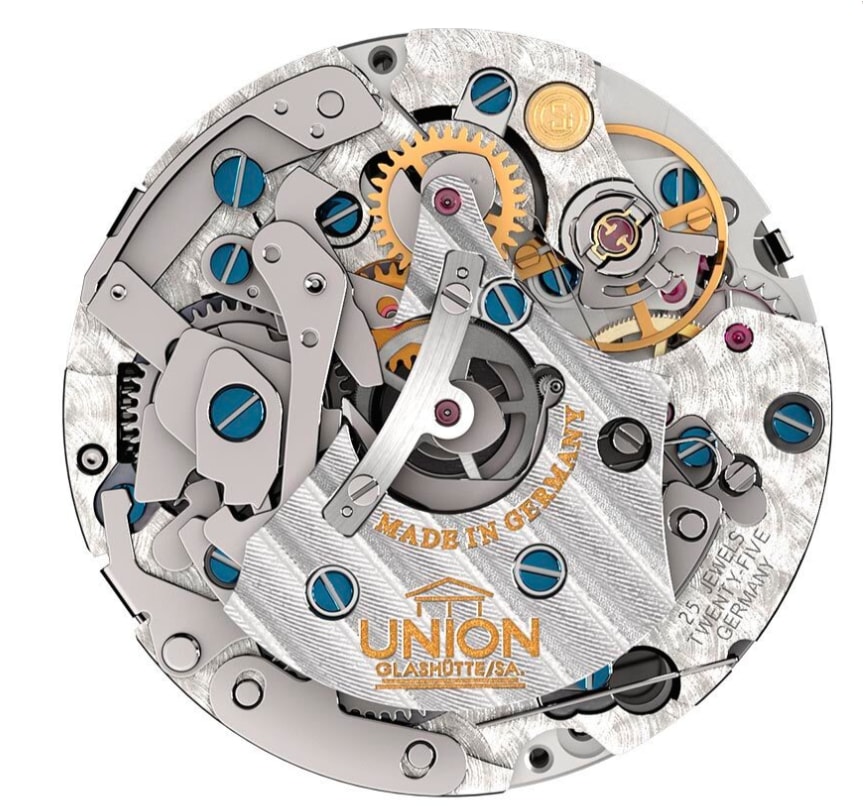 UNG-59.S1
Movement dimensions: 13 ¼", dia. 30.00 mm, height 7.30 mm Functions: hours, minutes, small second, date display in dial window, date correction using corrector at 10 o'clock, chronograph function with 60-second, 30-minute and 12-hour counters, chronograph mechanism with cams, 2 push-buttons, 1 corrector, silicon spring, indexless regulation system, second stop Stones: 25 Power reserve: 60 hours Frequency: 28,800 vibrations per hour (4 Hz)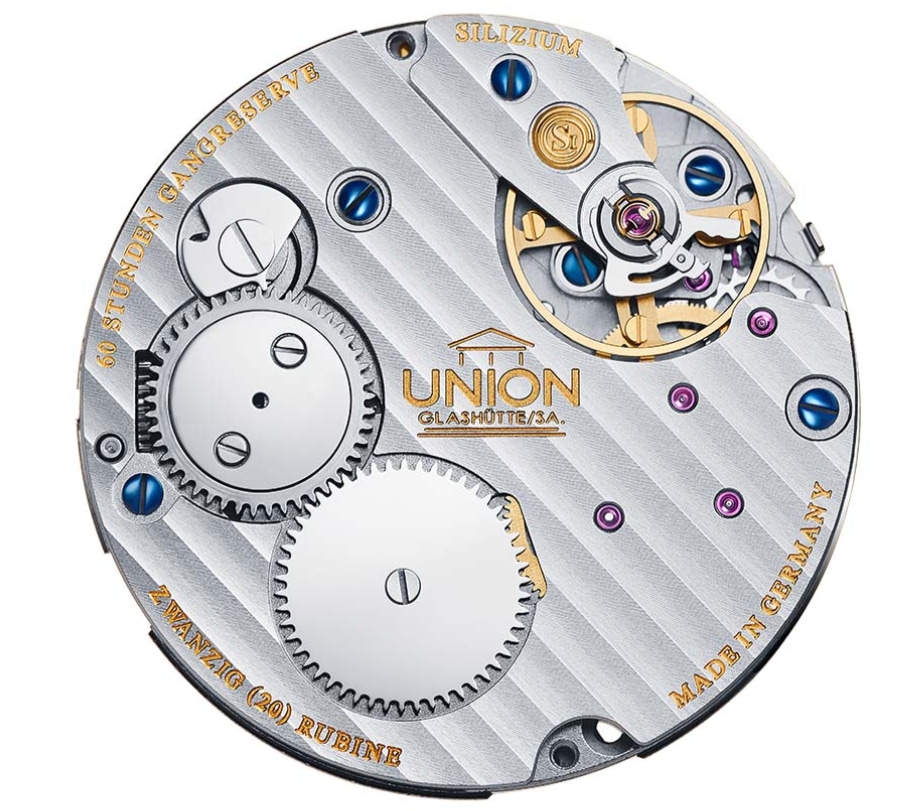 UNG-58.S1
Movement dimensions: 13 ¼ ''', dia. 30.00 mm, height 5.20 mm, Hours, minutes, small second, Date display via hand, Day, month and moon phase display in dial windows, Date correction via corrector at 10 o'clock, 24-hour hand, Manual winding, 60-hour power reserve, Second stop device, Silicon balance-spring, 28,800 vibrations per hour (4 Hz), 20 jewels
UNG-56.01
Movement dimensions: 13 ¼ ''', dia. 30.00 mm, height 5.20 mm Hours, minutes, small second, power reserve display Date display in dial window (date correction via crown) Manual winding, 60-hour power reserve Second stop device 28,800 vibrations per hour (4 Hz) 20 jewels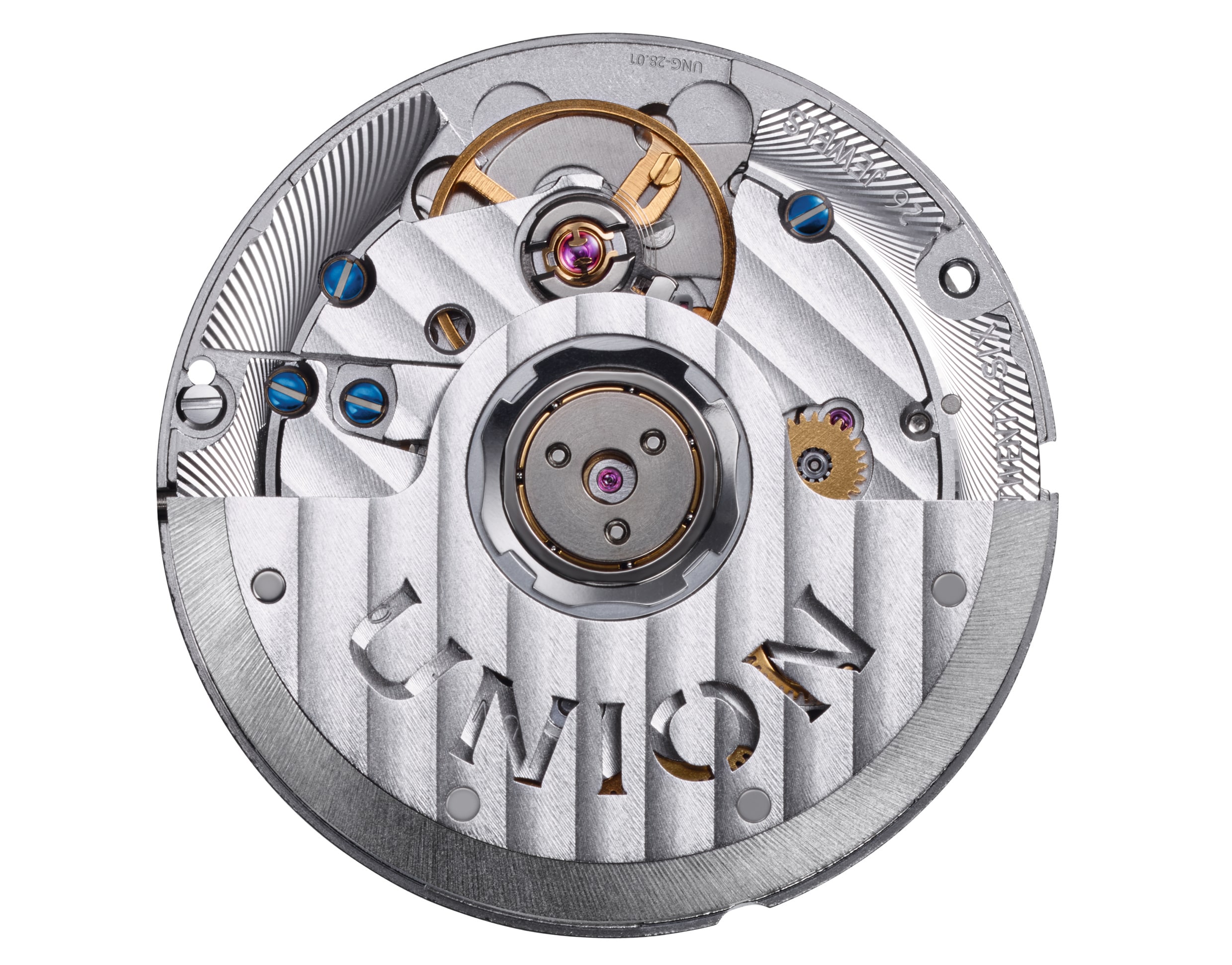 UNG-28.01
Movement dimensions 11 ½ ''', dia. 25.6 mm, height 4.6 mm Hours, minutes, small second Date display in dial window Self-winding with ball bearing, 60-hour power reserve Second stop device 25,200 vibrations per hour (3,5 Hz) 26 jewels
UNG-27.S2
Movement dimensions: 13 ¼ ''', dia. 30.00 mm, height 7.90 mm Hours, minutes, small second Date display in dial window Date correction via corrector at 10 o'clock Chronograph 60 seconds, 30-minute counter Chronograph mechanism with cams 2 push-buttons, 1 corrector Self-winding with ball bearing, 60-hour power reserve Silicon balance-spring Second stop device 28,800 vibrations per hour (4 Hz) 29 jewels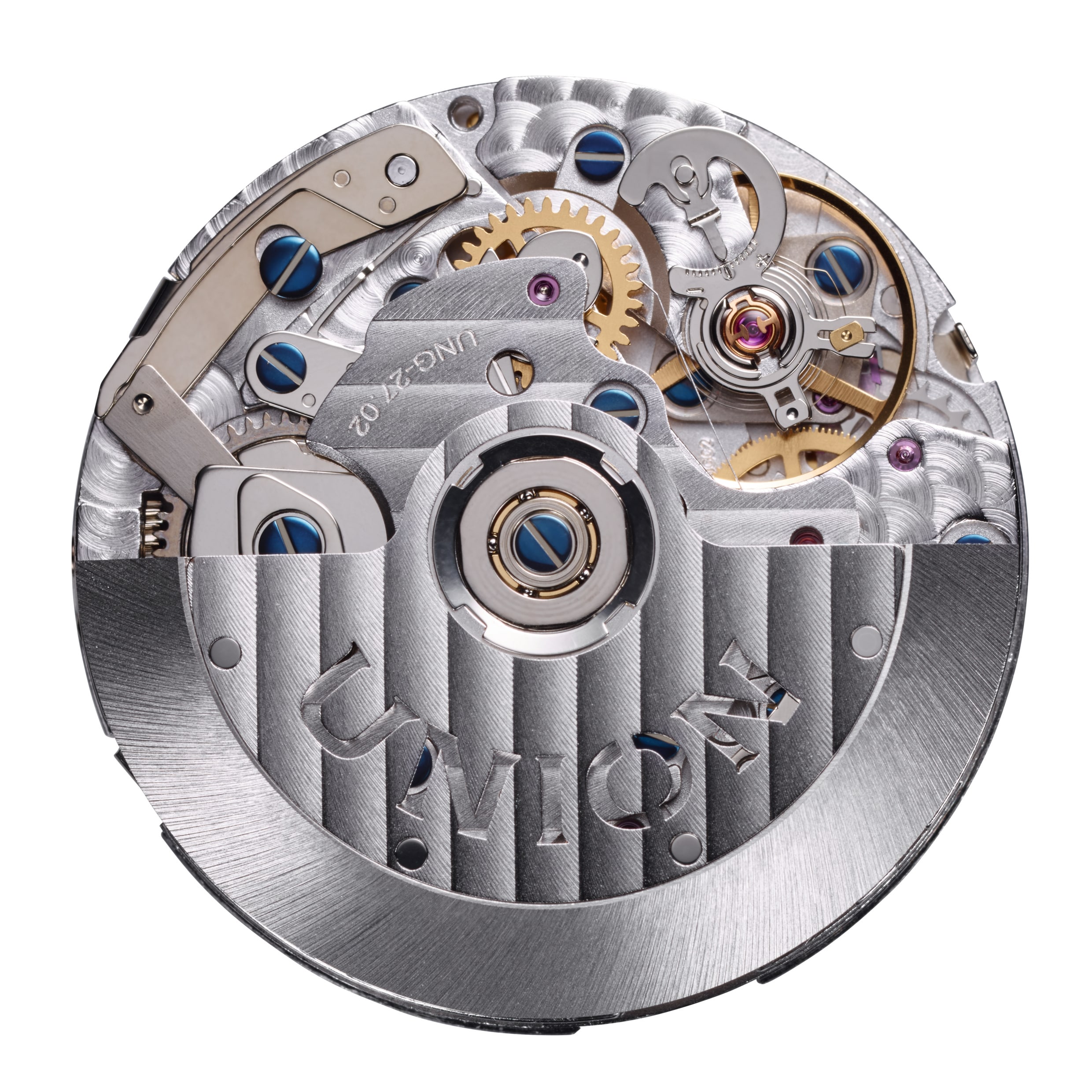 UNG-27.02
Movement dimensions: 13 ¼ ''', dia. 30.00 mm, height 7.90 mm Hours, minutes, small second Date display in dial window Date correction via corrector at 10 o'clock Chronograph 60 seconds, 30-minute counter Chronograph mechanism with cams 2 push-buttons, 1 corrector Self-winding with ball bearing, 60-hour power reserve Second stop device 28,800 vibrations per hour (4 Hz) 27 jewels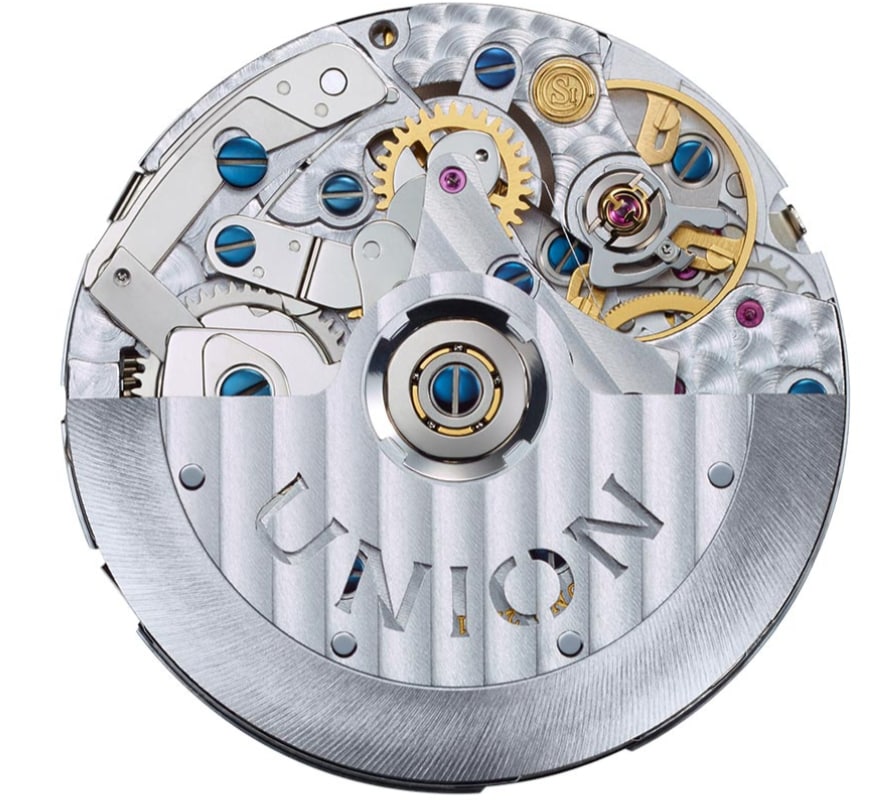 UNG-27.S1
Movement dimensions: 13 ¼", dia. 30.00 mm, height 7.90 mm Functions: hours, minutes and small second, date indicated by a hand, dial windows for day, month and moon phase indication, day correction using push-button at 10 o'clock, 24-hour hand, chronograph function with 60-second, 30-minute and 12-hour counters, chronograph mechanism with cams, 3 push-buttons, automatic winding with ball bearing, silicon spring, "indexless regulation system, second stop Stones: 29 Power Reserve: 65 hours Frequency: 28,800 vibrations per hour (4 Hz)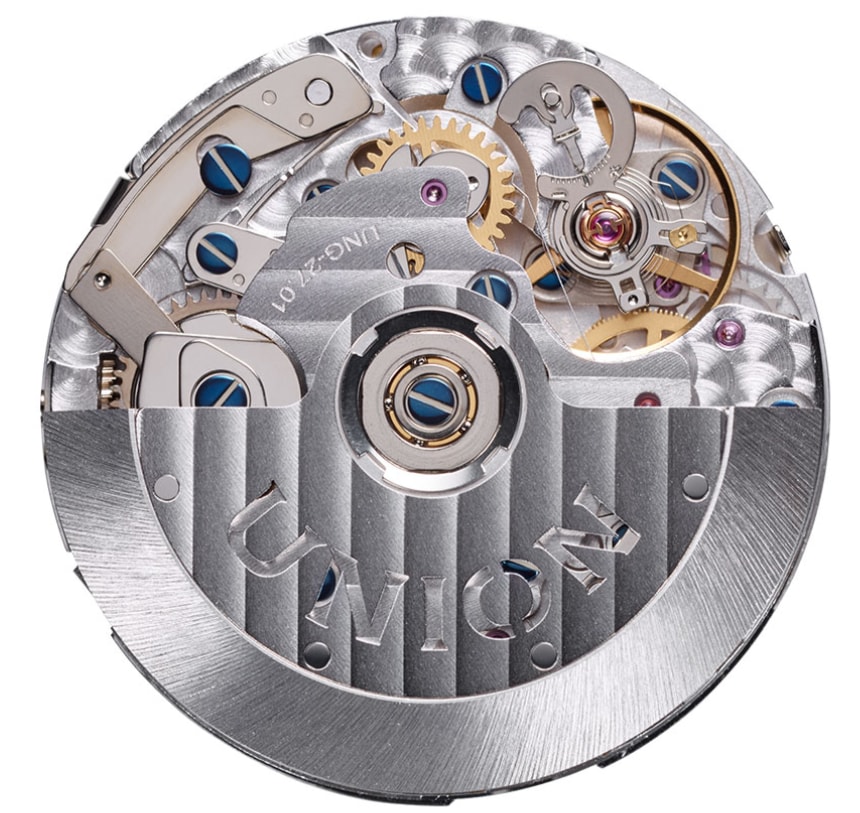 UNG-27.01
Movement dimensions: 13 ¼ ''', dia. 30.00 mm, height 7.90 mm Hours, minutes, small second Date display in dial window Date correction via corrector at 10 o'clock Chronograph 60 seconds, 30-minute and 12-hour counters Chronograph mechanism with cams 2 push-buttons, 1 corrector Self-winding with ball bearing, 60-hour power reserve Second stop device 28,800 vibrations per hour (4 Hz) 27 jewels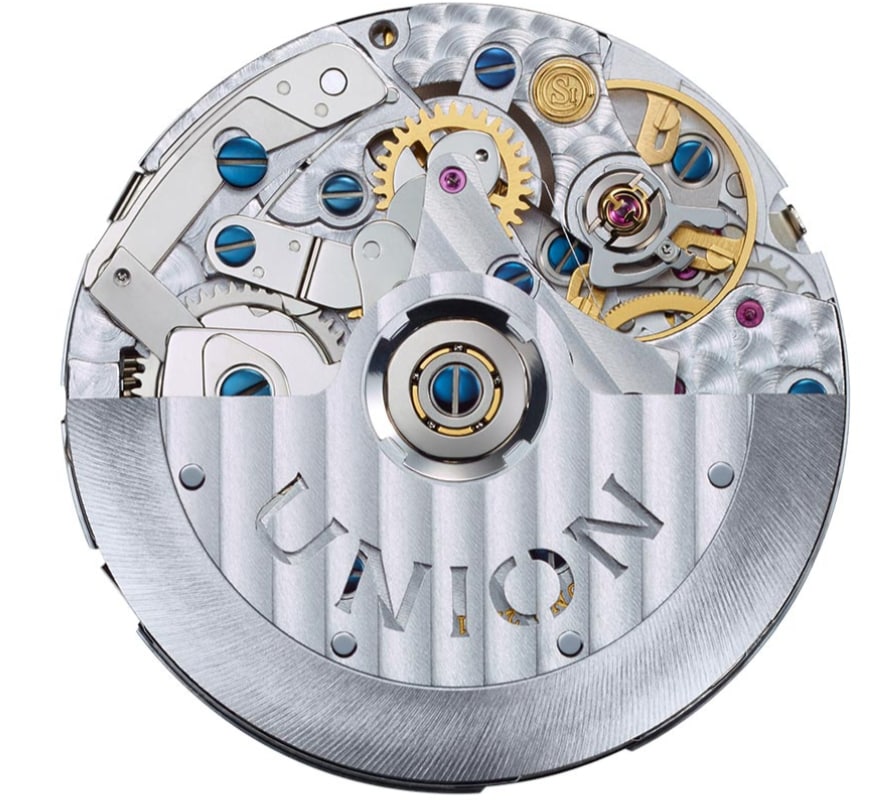 UNG-25.S1
Movement dimensions: 13 ¼ ''', dia. 30.00 mm, height 7.90 mm Hours, minutes, small second Date display via hand Day, month and moon phase display in dial windows Date correction via corrector at 10 o'clock 24-hour hand Chronograph 60 seconds, 30-minute and 12-hour counter Chronograph mechanism with cams 2 push-buttons, 1 corrector Self-winding with ball bearing, 65-hour power reserve Silicon balance-spring Second stop device 28,800 vibrations per hour (4 Hz) 29 jewels
UNG-25.01
Movement dimensions: 13 ¼ ''', dia. 30.00 mm, height 7.90 mm Hours, minutes, small second Date display via hand Day, month and moon phase display in dial windows Date correction via corrector at 10 o'clock 24-hour hand Chronograph 60 seconds, 30-minute and 12-hour counter Chronograph mechanism with cams 2 push-buttons, 1 corrector Self-winding with ball bearing, 60-hour power reserve Second stop device 28,800 vibrations per hour (4 Hz) 29 jewels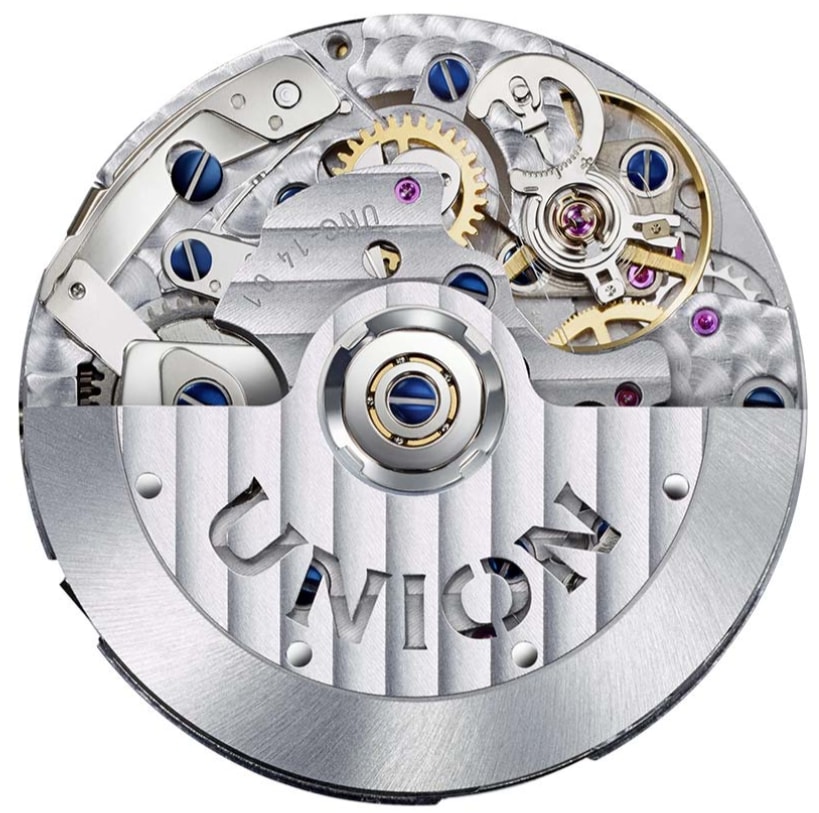 UNG-14.01
Movement dimension 13 ¼ ''', dia. 30.00 mm, height 7.9 mm Hours, minutes, small second date and day display in dial window Chronograph 60 seconds, 30-minute and 12-hour counter Chronograph mechanism with cams Two push-buttons Self-winding with ball bearing, 60-hour power reserve Second stop device 28,800 vibrations per hour (4 Hz) 25 jewels
UNG-07.S1
Movement dimensions: 11 ½ ''', dia. 25.6 mm, height 3.85 mm Hours, minutes, central second hand Date display in dial window Self-winding with ball bearing, 60-hour power reserve Silicon balance-spring Second stop device 25,200 vibrations per hour (3.5 Hz) 21 jewels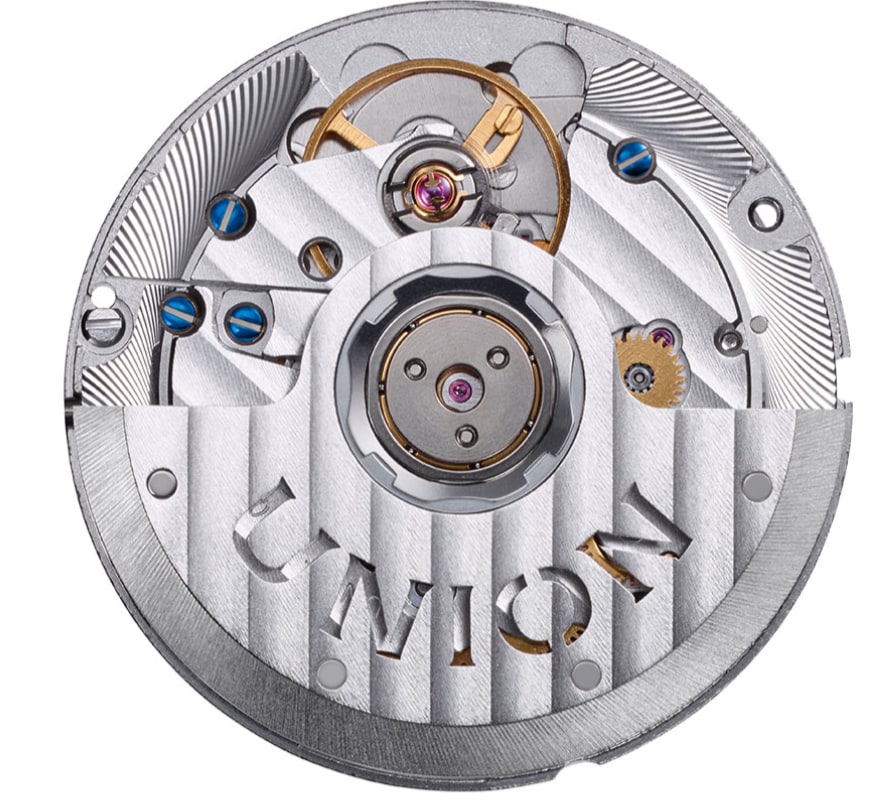 UNG-07.01
Movement dimensions: 11 ½ ''', dia. 25.6 mm, height 3.85 mm Hours, minutes, central second hand Date display in dial window Self-winding with ball bearing, 60-hour power reserve Second stop device 25,200 vibrations per hour (3.5 Hz) 21 jewels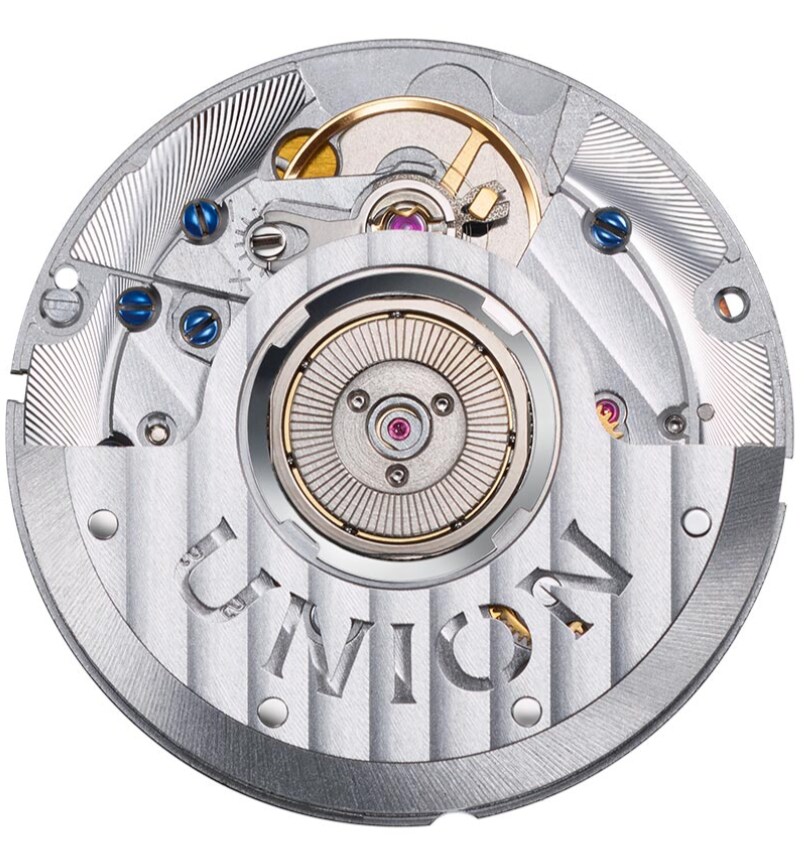 U 2899-993
Movement dimensions: 11 ½ ''', dia. 25.60 mm, height 5.60 mm Flexible hour, minutes and small second display (position) Date display in dial window Self-winding with ball bearing, 42-hour power reserve Second stop device 28,800 vibrations per hour (4 Hz) 21 jewels
U-2899-ZZ6
Movement dimensions: 11 ½ ''', dia. 25.60 mm, height 5.60 mm Flexible hour, minutes and small second display (position) Date display in dial window Self-winding with ball bearing, 42-hour power reserve Second stop device 28,800 vibrations per hour (4 Hz) 21 jewels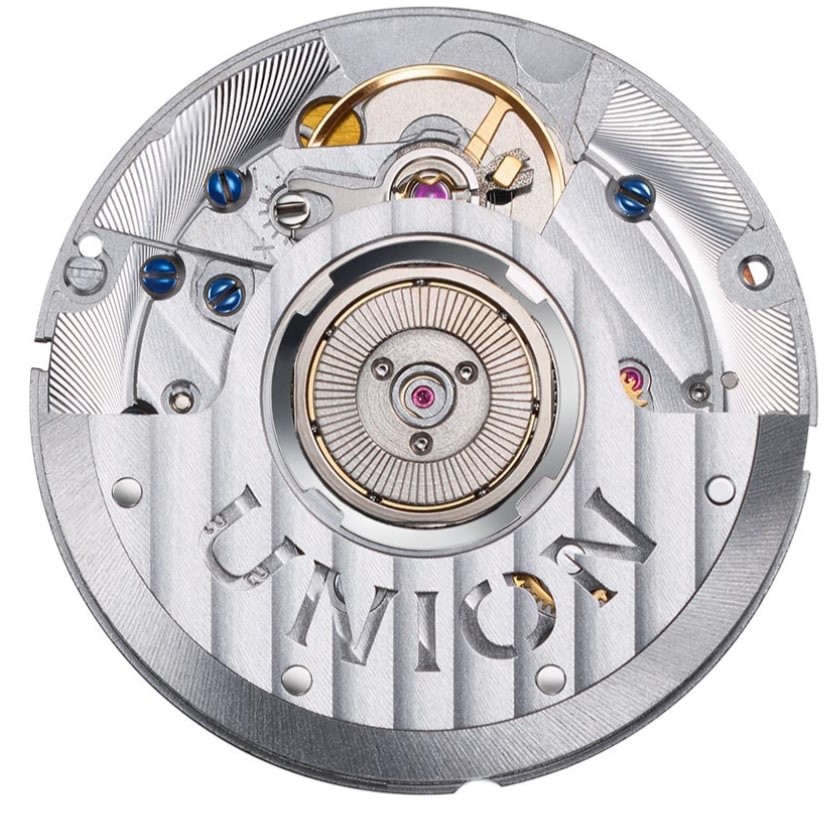 U 2899-0Z6
Movement dimensions: 11 ½ ''', dia. 25.60 mm, height 5.60 mm Flexible hour, minutes and small second display (position) Date display in dial window Self-winding with ball bearing, 42-hour power reserve Second stop device 28,800 vibrations per hour (4 Hz) 21 jewels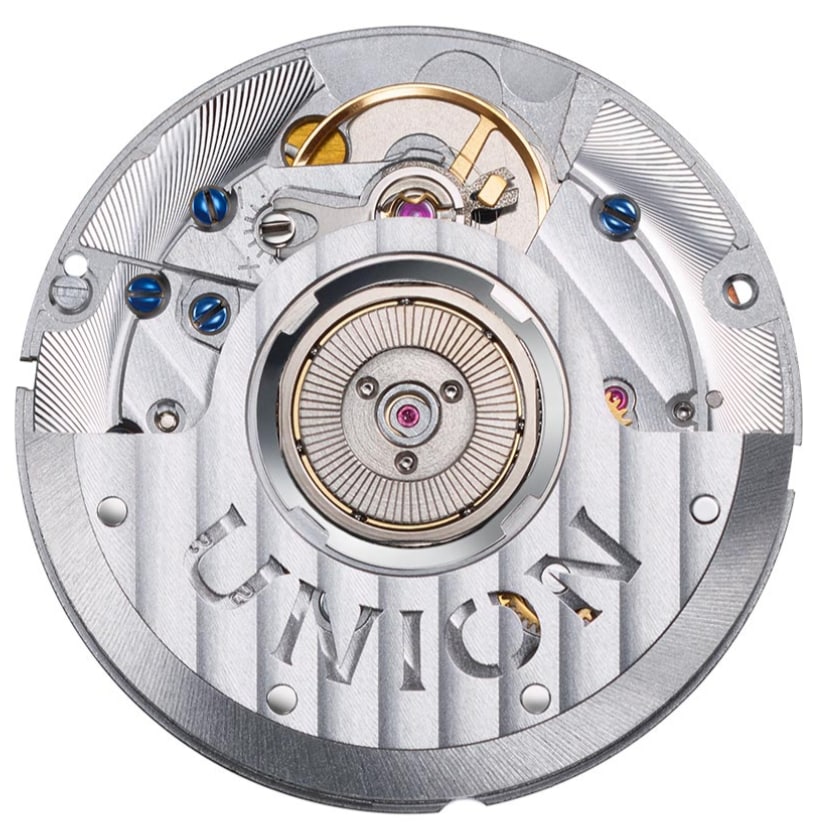 U 2897
Movement dimensions: 11 ½ ''', dia. 25.60 mm, height 4.85 mm Hours, minutes, central second hand Date display in dial window Power reserve display Self-winding with ball bearing, 42-hour power reserve Second stop device 28,800 vibrations per hour (4 Hz) 21 jewels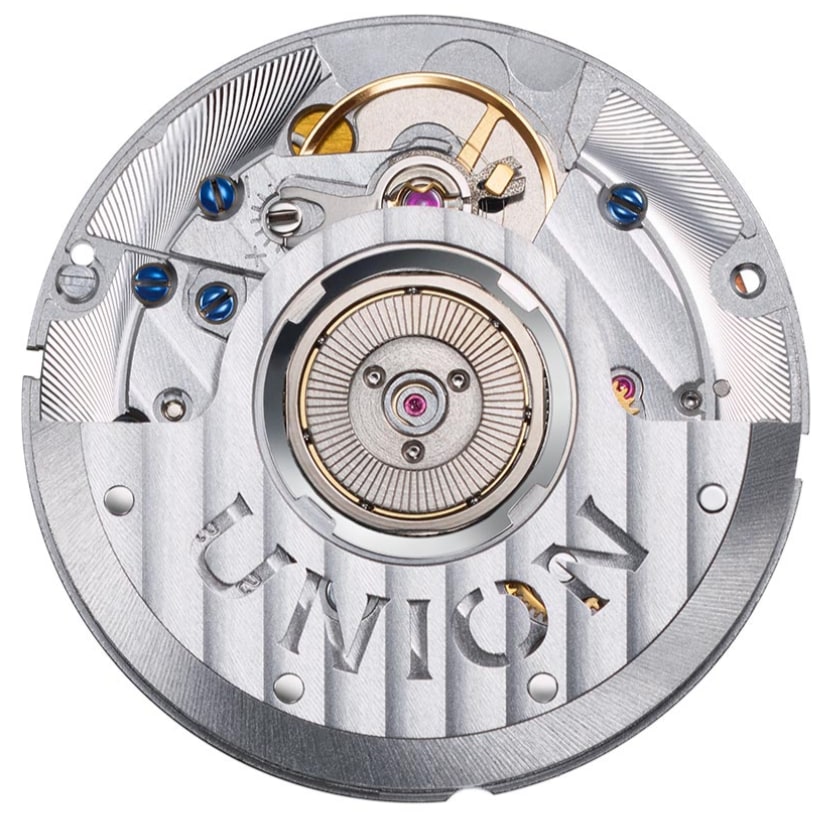 U 2896
Movement dimensions: 11 ½ ''', dia. 25.60 mm, height 4.85 mm Hours, minutes, central second hand Quick-change date display in large dial window Self-winding with ball bearing, 42-hour power reserve Second stop device 28,800 vibrations per hour (4 Hz) 22 jewels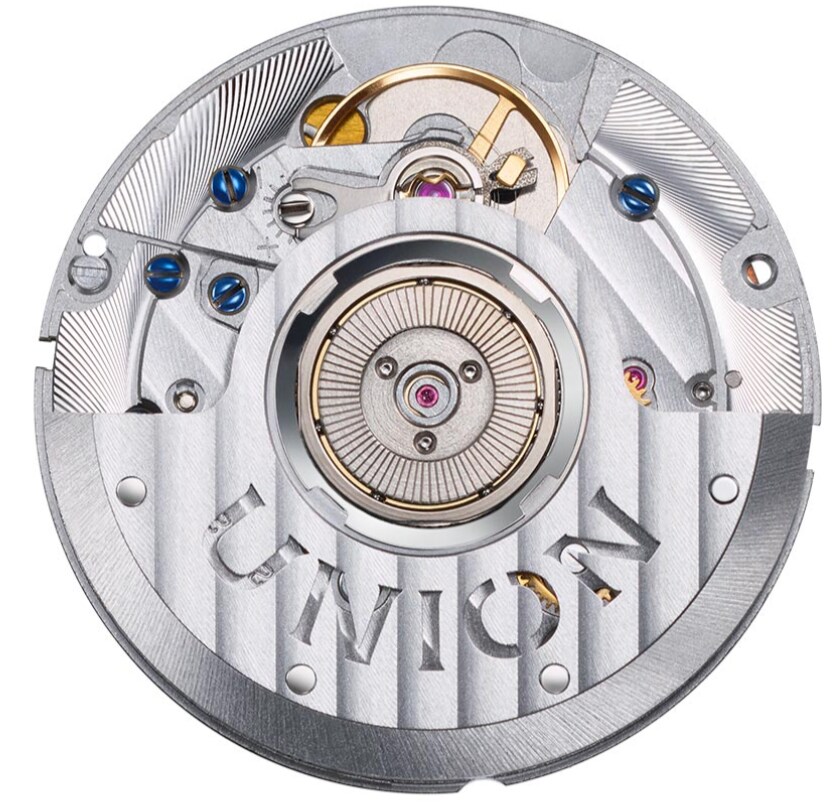 U 2895-2
Movement dimensions: 11 ½ ''', dia. 25.60 mm, height 4.35 mm Hours, minutes, small second Date display in dial window Self-winding with ball bearing, 42-hour power reserve Second stop device 28,800 vibrations per hour (4 Hz) 27 jewels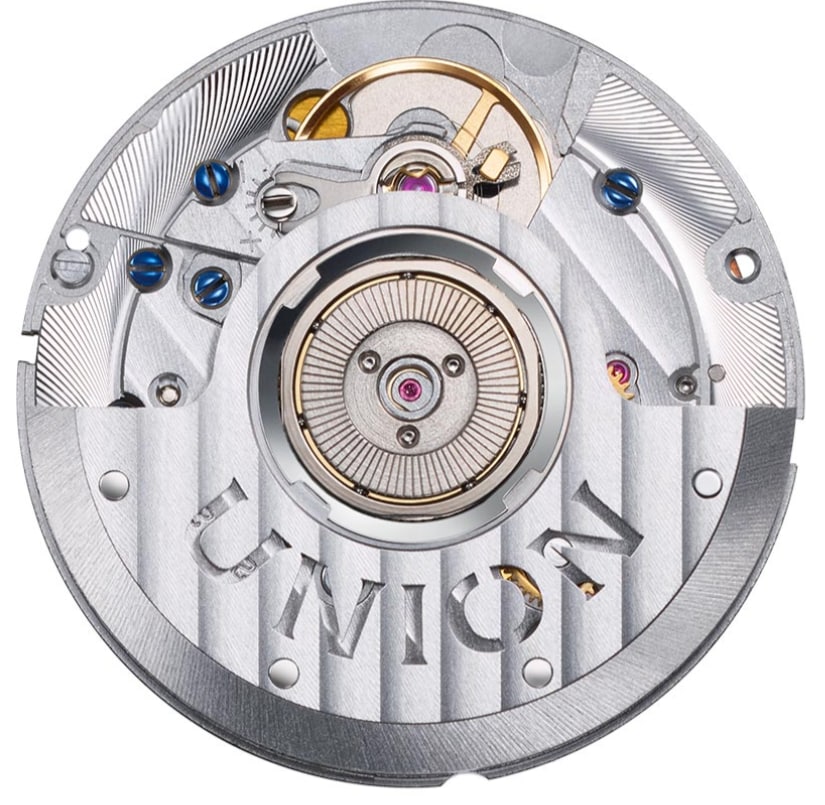 U 2892A2
Movement dimensions: 11 ½ ''', dia. 25.60 mm, height 3.60 mm Hours, minutes, central second hand Date display in dial window Self-winding with ball bearing, 42-hour power reserve Second stop device 28,800 vibrations per hour (4 Hz) 21 jewels