Union Glashütte - Time in Motion
Since its foundation more than 130 years ago, the Union Glashütte brand has dedicated itself to the production of fine watches, and its collections are a testament to Glashütte's rich history of watchmaking. Right from the start, businessman and founder of the company, Johannes Dürrstein, kept to the principle of making his high-quality, precision Glashütte watches affordable for a wider range of customers. This objective has remained the same throughout the eventful history of the company, but has continually found new ways of expression. It has never yet lost relevance.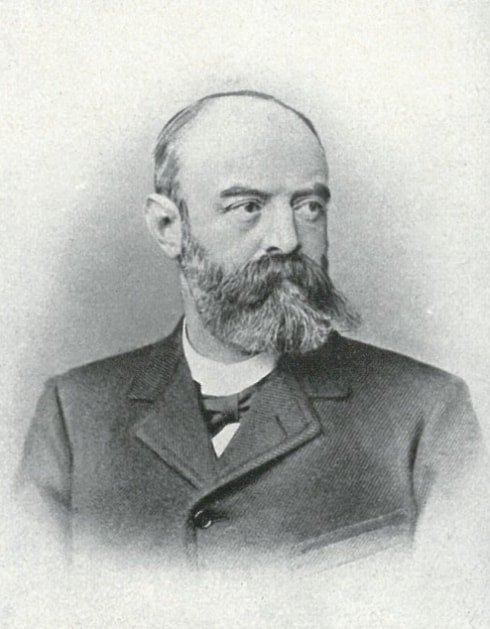 1845
On 22 August 1845, Johannes Dürrstein was born in Niederrad near Frankfurt. That same year, Dresden watchmaker Ferdinand Adolph Lange, with financial support from the state government of Saxony, began manufacturing watches in Glashütte and thus laid the foundations for the development of a Swiss-style watchmaking trade in the Ore Mountains. Dürrstein acquired his commercial knowledge at the Ludwig & Fries watchmaking suppliers in Frankfurt am Main. During his travels and time as a sales representative, he established contacts with watch manufacturers and buyers in Switzerland and Germany.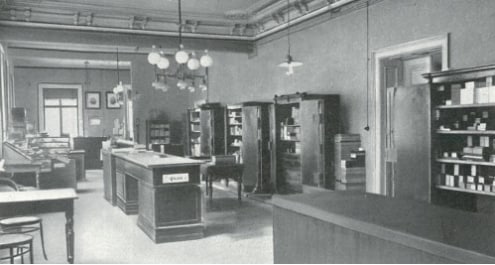 1874
On 19 January 1874, Johannes Dürrstein established the Dürrstein & Comp. watch wholesaler in Dresden. That same year, he took over responsibility for the general distribution for watches at Glashütte-based A. Lange & Söhne.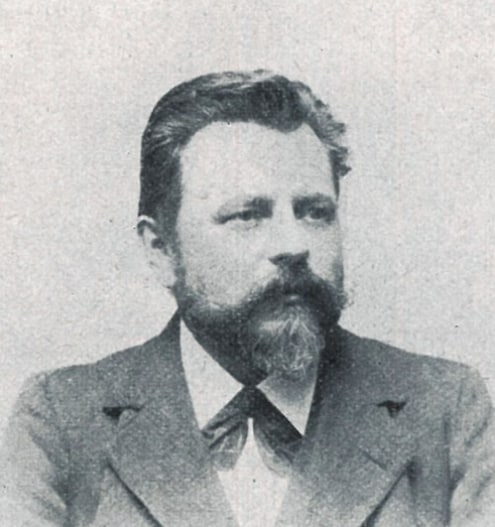 1882
Julius Bergter, who worked as a watchmaker at the Moritz Großmann watch manufactory and as a teacher at the German School of Watchmaking in Glashütte, joined Dürrstein & Comp. in Dresden and soon became the company's trusted technical advisor. A large number of his developments were patented for Dürrstein & Comp.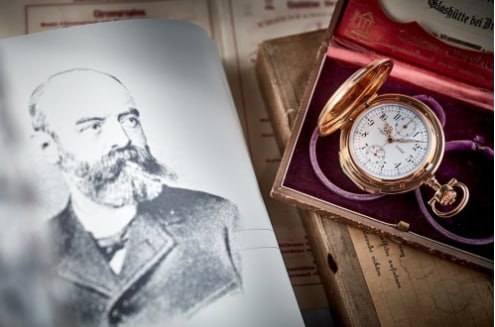 1893
On 1 January 1893, alongside the watch wholesale business in Dresden, Johannes Dürrstein established the Uhrenfabrik Union in Glashütte. Julius Bergter presided over the company as director. Still in the same year, Dürrstein presented and sold a Grand Complication watch at the Chicago World Fair.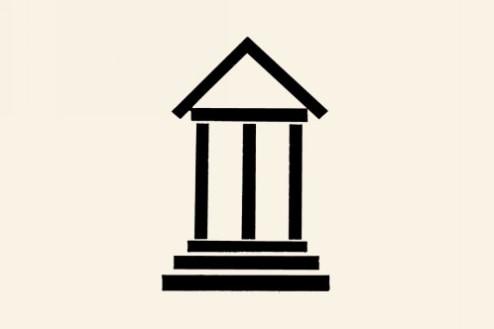 1893
A stylised temple was introduced as the trademark for the Union brand. The symbol certified the originality of the Glashütte Union timepieces.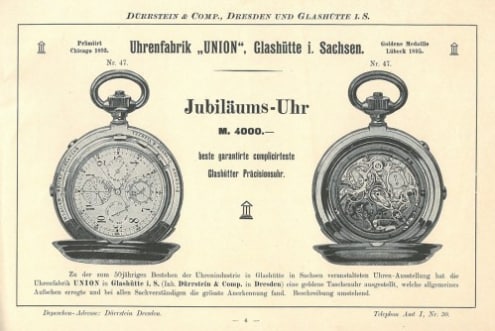 1895
The Grand Complication exhibited in Chicago was presented in a modified form as an "anniversary watch" to mark 50 years since the foundation of the Glashütte watch industry. It was the first Grand Complication built in Glashütte and featured a rattrapante chronograph with dead seconds, 30 minutes display, perpetual calendar, foudroyante, moon phase, minute repetition, grande and petite sonnerie. A total of six copies were made at a later stage.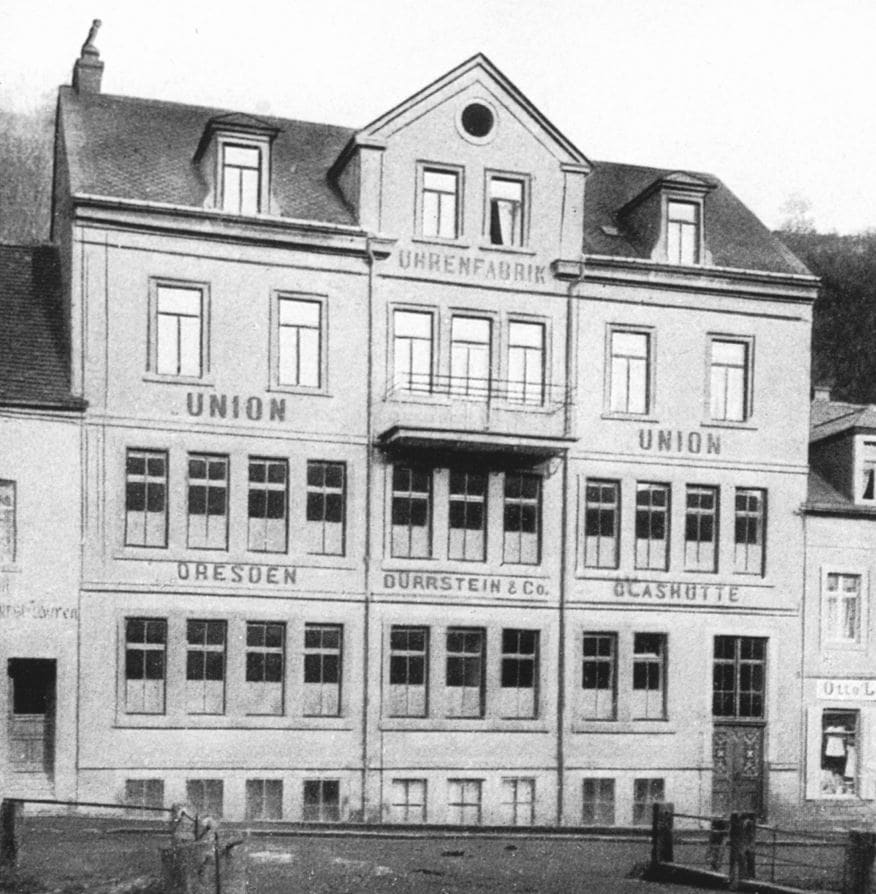 1899
Union Uhrenfabrik moved to a modern production facility at 41 Hauptstraße.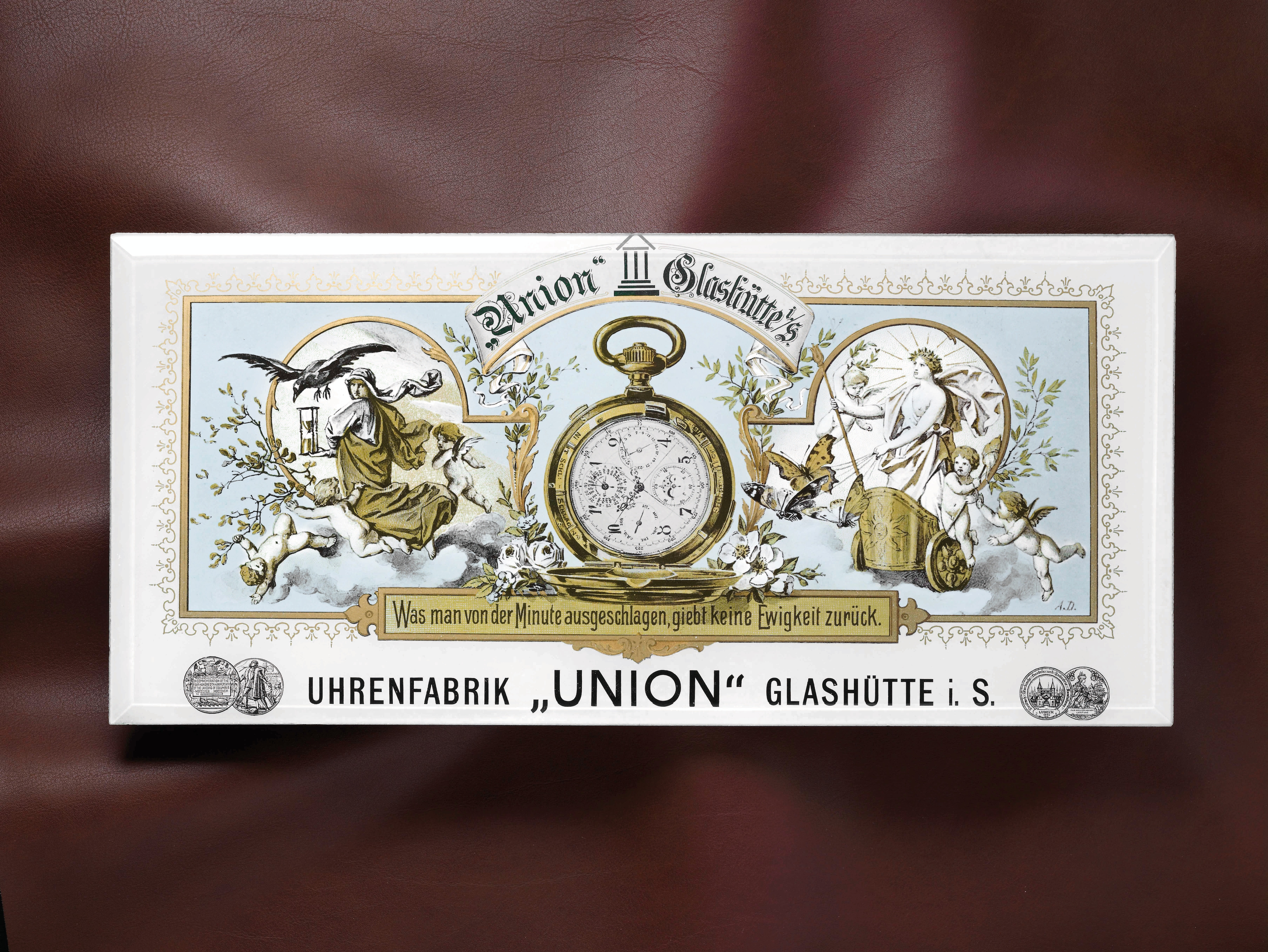 1900
With Julius Bergter in charge, the "Universaluhr" (also known as the Universal Watch) was finished and put up for sale at 12,000 German marks. Two other movements remained unfinished at that time. In addition to the complications of the anniversary watch, these three watches had an extra alarm function. The product range was also expanded in 1900 to include observation watches.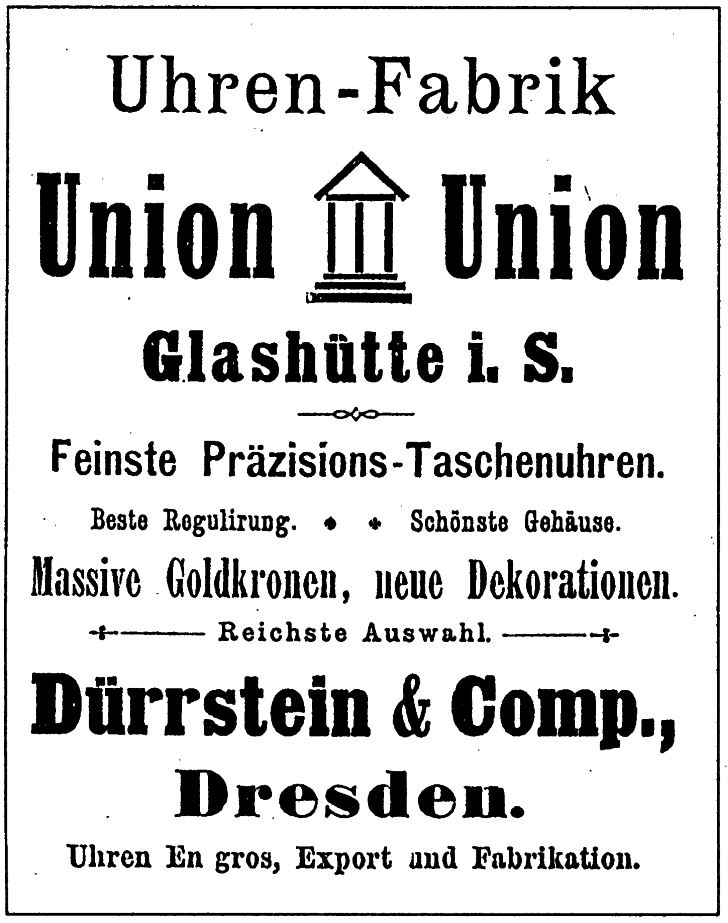 1903
Following the death of Johannes Dürrstein's brother, Friedrich, his widow, Lina, continued the Dürrstein & Comp. business in Dresden together with her sons. Watchmaker Emil Leutert was appointed as regulator. He worked as operations manager until the company closed in 1925, after which he became self-employed, repairing Union timepieces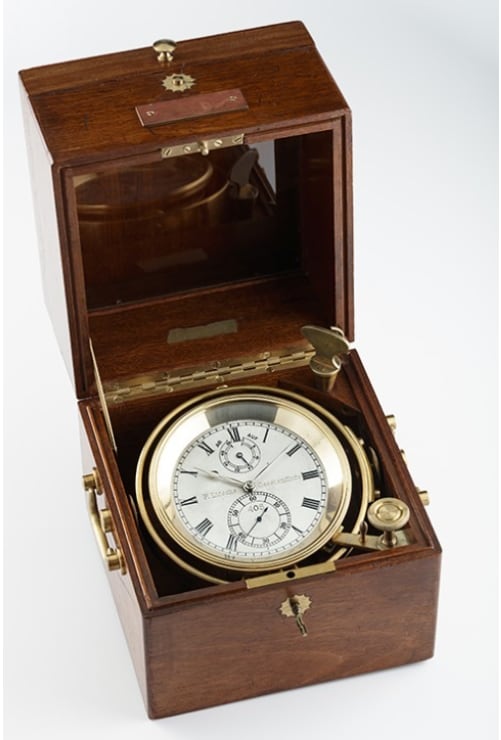 1907
Introduction of marine chronometers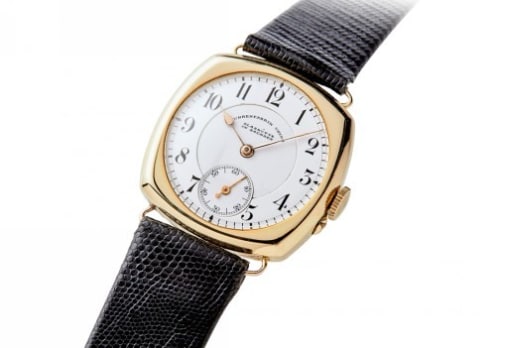 1919
Hugo Bogusch succeeded Julius Bergter and was director of Union Uhrenfabrik until 1925. He attempted to streamline the company's production processes. In the transition phase, Union produced the flattest pocket watch movements in Glashütte. Only a few wristwatches were completed. They were fitted with a ladies' pocket watch movement. 1936 Uhrenfabrik Union was removed from the German Commercial Register.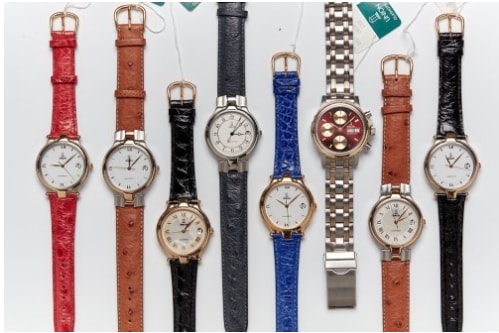 1996
On 13 August 1996, Union Uhrenfabrik GmbH was refounded as a subsidiary of Glashütte Original.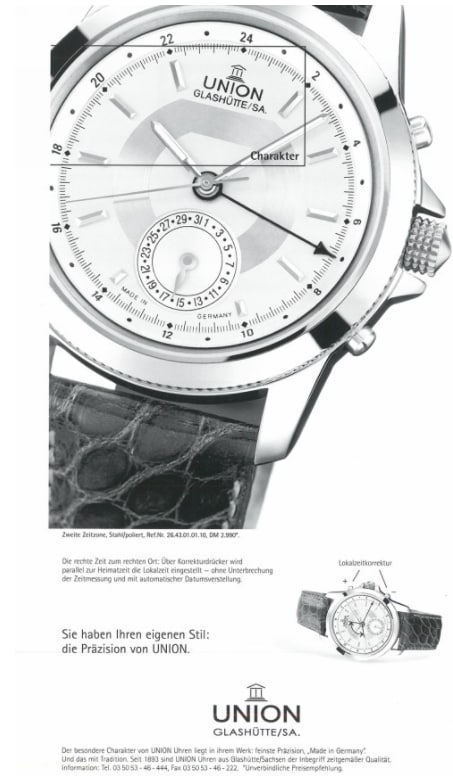 1997
Union Glashütte entered the market with a wristwatch collection that was designed on its behalf by Glashütte Original and manufactured with full vertical integration.

2000
The Swiss Swatch Group AG took over Union Glashütte. The development of Glashütte Original used the totality of existing production capabilities, leaving little for the manufacturing of Union timepieces.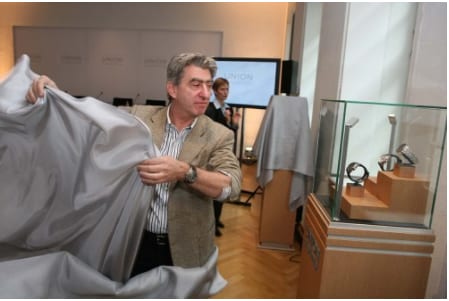 2008
The management of the Swatch Group decided to run the two companies separately. At that point, Union Glashütte repositioned itself and launched as an independent brand with its own production and collection.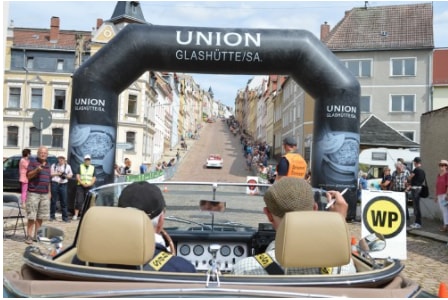 2010
Union Glashütte first became the watch partner of the Sachsen Classic rally and subsequently also of other classic car events.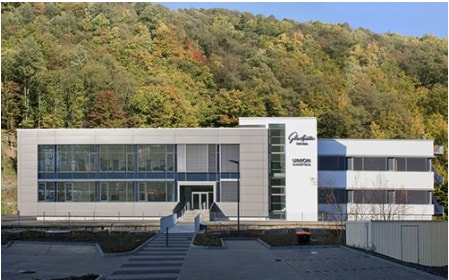 2012
Union Uhrenfabrik established a new production facility at 5 Frühlingsweg in Glashütte.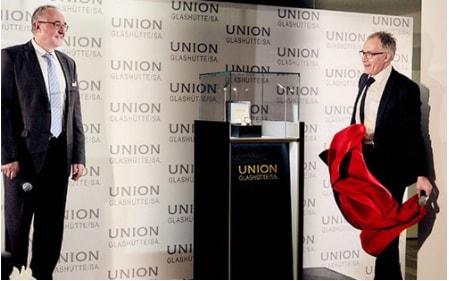 2018
To mark 125 years since the foundation of the company, the German Watch Museum in Glashütte honoured the history of Union Uhrenfabrik with the special exhibition "Union Glashütte – 125 Years of the German Art of Watchmaking". With the 1893 Johannes Dürrstein Anniversary Limited Edition, Union Glashütte is paying tribute to its own history. The watch, with a manual-winding movement, combines Glashütte tradition with modern watchmaking craftsmanship.